Bay Area Premiere of "The Future of Energy" Film
With musical performaces by Michael Franti and Impact Hub Oakland
Co-Founder Zakiya Harris
Hosted by: Pandora Thomas of Earthseed Consulting
Planetary Advocates, Impact Hub Oakland, and KQED present the Bay Area premiere of "The Future of Energy" film as part of Oakland's First Friday/Art Murmur Events. The evening will be hosted by Pandora Thomas, an environmental educator, who is featured in the film. After the screening, there will be a Q & A with some of the cast and filmmakers. Zakiya Harris will open for Michael Franti who will be performing a live acoustic set. Since this is a Bay Area film, this is a party you won't want to miss with a lot of eco-celebrities in the house + enjoy "NEXT GEN: Community and Citizen Artists' Expressions" exhibit inside Impact Hub Oakland's Omi Gallery featuring young women environmental artists.
Agenda:
(VIP Only)
6-7pm – VIP dinner
7-7:45pm – Meet and Greet with the filmmakers and Michael Franti.
(General Admission)
7pm – Doors open
7:45pm – The Future of Energy film (80 min), followed by Q&A with filmmakers
10pm – Michael Franti acoustic performance, opening act by Zakiya Harris
"The Future of Energy is really about the clean energy revolution happening right now — By the final credits, you'll know both how and why renewable energy is the cleanest, quickest, cheapest, and safest way to supply all of our energy needs."  
— Michael Brune, Executive Director, Sierra Club  
The Future of Energy is a positive, activating film about the renewable energy revolution and emerging solutions to climate change. The film was created when a guerrilla style director, a former hiphop producer, an environmental lawyer and a former radio host came together and decided to take action to help address the climate crisis. They were quickly joined by many talented people to produce this exciting full-length documentary in less than 13 months.
The film had its world premiere in Melbourne, Australia at the Transitions Film Festival, and LA premiere at the historic Chinese Theaters in Hollywood. The film features many of Bay Area leaders including:Joanna Macy, Danny Kennedy and Sungevity, Pandora Thomas, Julian Mocine-Mcqueen and Green for All, Jamie Henn, Bill Mckibben and 350.org, Billy Parrish and Mosaic, Erica Mackie and Grid Alternatives, Melanie Nutter, AshEl Eldrige, Rosa Esperanza González and the Alliance for Climate Education, Emily Kirsch and Sfun Cube, Woody Hastings, Shawn Marshall, Gopal Dayaneni, Mark Jacobson from the Solutions Project, and Jill Stein.
For more info go to: http://www.thefutureofenergy.org/
To watch trailer go to: http://vimeo.com/83014869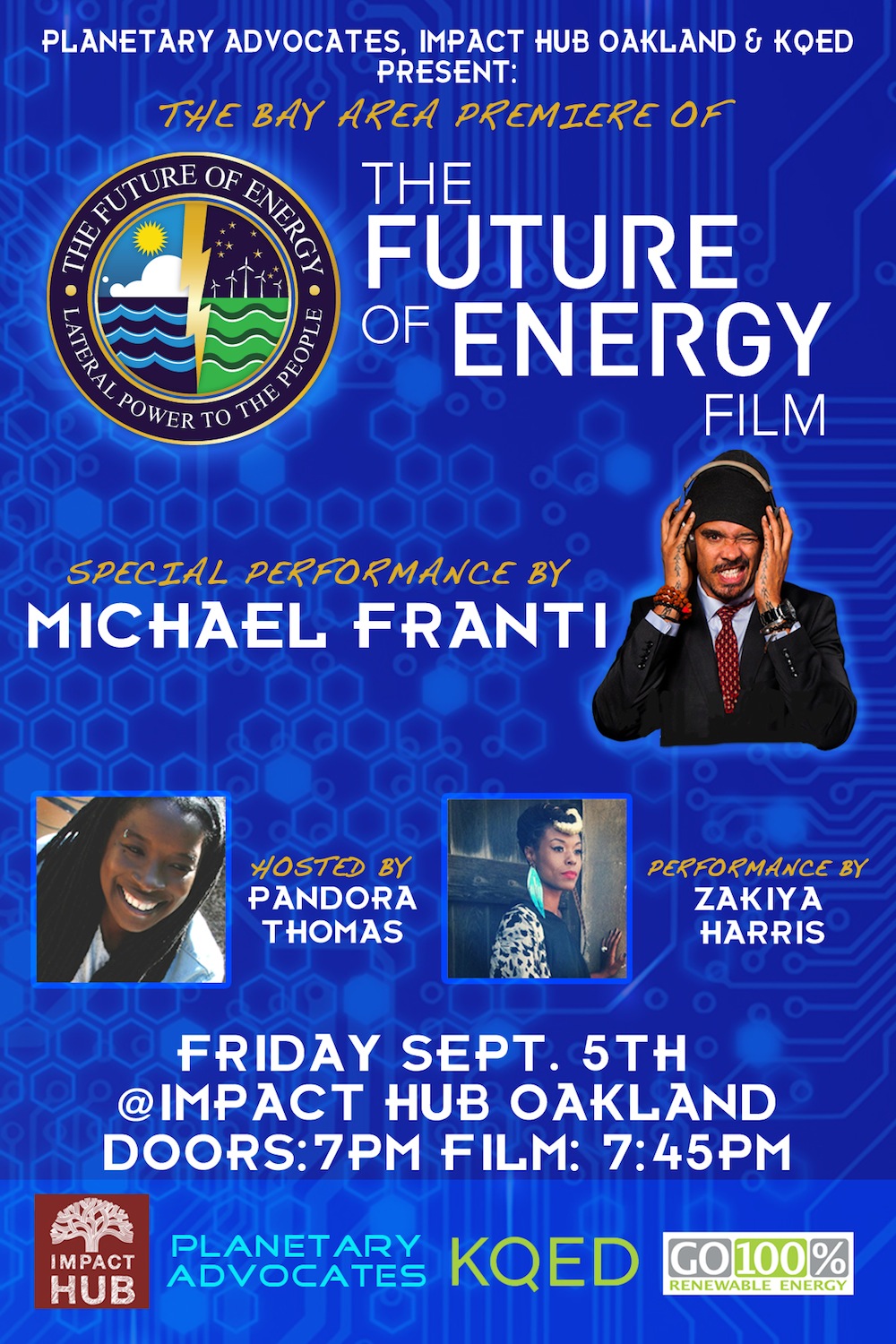 ———————————————————————————————————————————————-
BIOS:
Michael Franti: Michael Franti & Spearhead have earned a reputation as one of the most electrically charged and ultimately unforgettable live acts in the business. Michael Franti has sold over 2.5 million singles of his hit song "Say Hey (I Love You)" and has charted his albums in Billboard's Top 40 along with frequent appearances on David Letterman, Leno, Conan, Oprah, Ellen and CNN. Franti & Spearhead released the acclaimed album All People last year and have been touring ever since. Franti is recognized as a pioneering force in music as a vehicle for social activism. Not only is he a singer-songwriter-guitarist and philanthropist, he has also diligently created and supported numerous environmental, humanitarian and social causes. It all explains the evolution of sound on All People – colossal dance beats and dizzying electronic effects as well as lyrical sincerity with Franti singing about what moves him most.
In addition, Michael Franti and the director of The Future of Energy, Brett Mazurek, have been working together for 5 years. Franti narrated Mazurek's first documentary, Diamonds in the Rough, while Mazurek films Franti's live shows and edits his music documentaries. This collaborative event was bound to happen!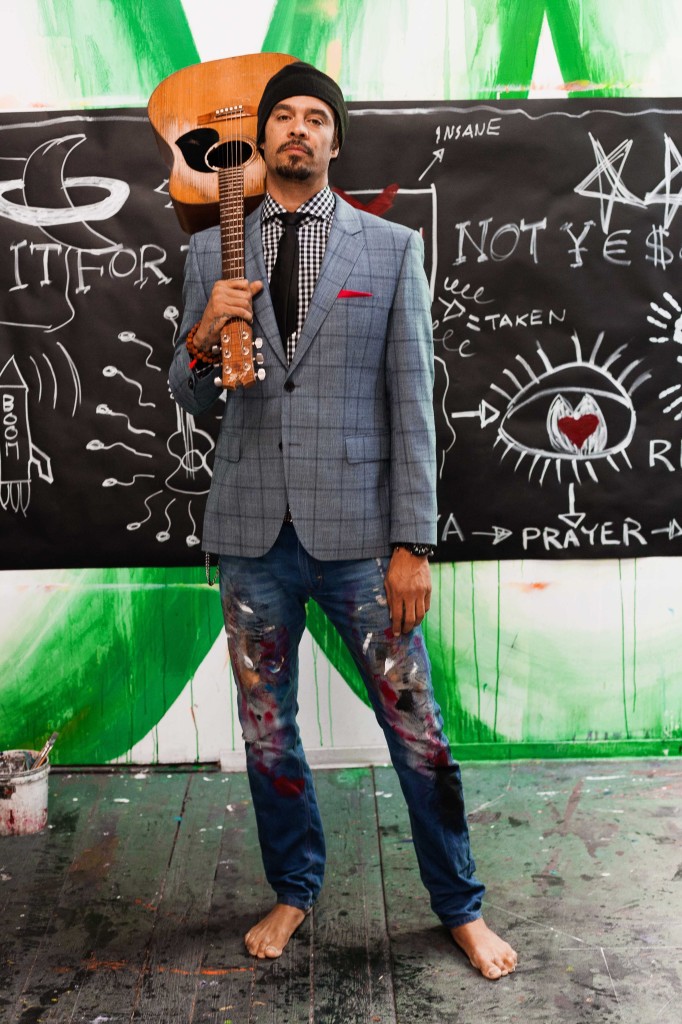 Zakiya Harris is a Shapeshifter. She is an afro-eclectic mix of soul, dance and theater. Her music has been compared to the works of Janelle Monáe, Erykah Badu, and MIA. Along with her dynamic band Elephantine, she seamlessly blends the genres of Soul, Electronica, Hip-Hop, and Afro-Beat music within her repertoire. Zakiya has shared stages with Talib Kweli, Dead Prez, Digable Planets, Gil Scott-Heron, and Tatiana Ali. She's also been featured at Art Basel, Life is Living, The New Parish, Brick and Mortar, Cafe Du Nord and The Legendary CBGB's Gallery.
In Addition, Zakiya is a Social Change Strategist working at the intersections of entrepreneurship, education & creative transformation. Zakiya is a co-founder of Impact Hub Oakland, and involved in the nationally recognized projects: Grind for the Green, Hack The Hood, Earthseed Consulting,  Green For All, and Bold Food.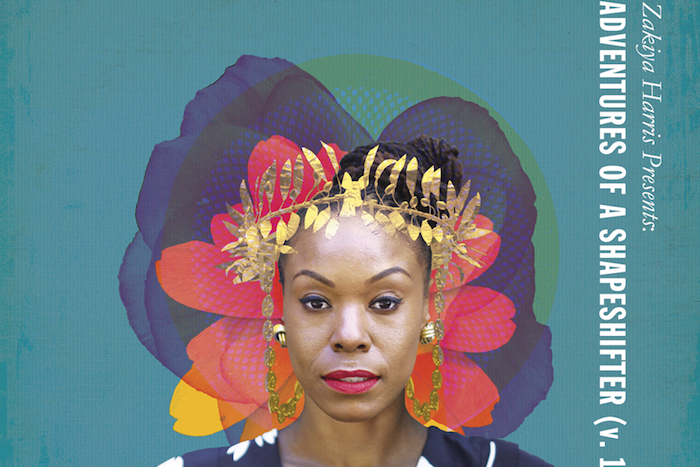 Pandora Thomas is a passionate global citizen who works as a sustainability and environmental education consultant, permaculture teacher, lecturer and writer. She is a certified green building professional, credentialed multiple subjects' teacher and studied at Columbia's Teachers College, and Tufts University.
Her writing includes a children's book, various curricula and a greenbuilding manual for youth.  After years of working with groups as diverse as Iraqi and Indonesian youth to men serving in San Quentin she enjoys lecturing and teaching about empowering collaboration and community assets based design.
Pandora co-founded Earthseed Consulting LLC, a holistic consulting firm whose work expands the opportunities for sustainable living for diverse communities.  Her clients include Toyota, Alameda County office of Mental Health and San Quentin.
She currently co-leads a project called Pathways to Resilience, a permaculture and social enterprise-training program for men and women re-entering their communities after incarceration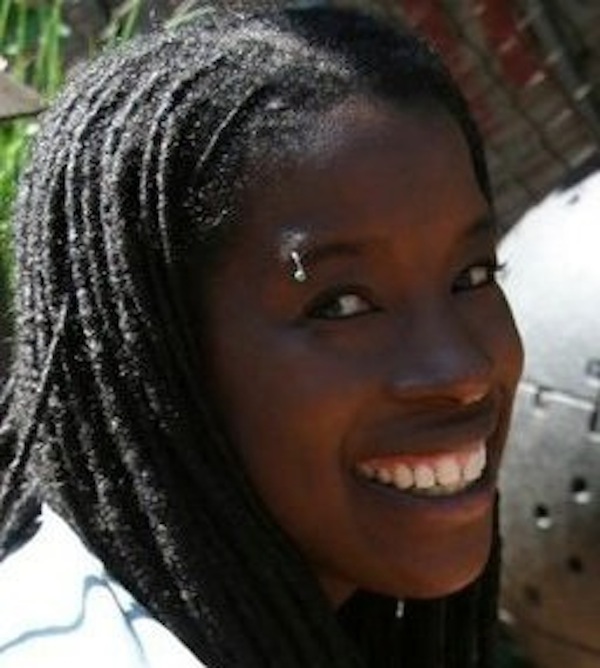 Back to all Events